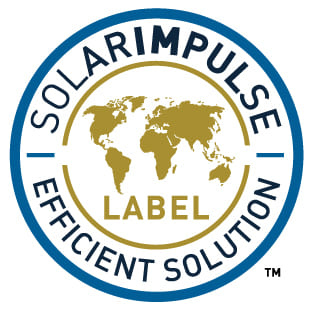 Voltalis was attributed the "Solar Impulse Efficient Solution" Label following an assessment performed by external independent experts and based on verified standards. It is thereby joining the #1000solutions challenge, an initiative by the Solar Impulse Foundation to select solutions that meet high standards in profitability and sustainability and present them to decision-makers to fast-track their implementation.
To receive the "Solar Impulse Efficient Solution" Label, Voltalis was thoroughly assessed by a pool of independent experts according to 5 criteria covering the three main topics of Feasibility, Environmental and Profitability. All labelled solutions are part of the #1000solutions portfolio that will be presented to decision-makers in business and government by Bertrand Piccard, Chairman of the Solar Impulse Foundation. The aim of this initiative is to encourage the adoption of more ambitious environmental targets and fast-track the implementation of these solutions on a large scale.
According to an Expert Member of the World Alliance for Efficient Solutions : "Voltalis Connect not only enables individual energy savings (it provides up to 15% energy savings to end-users) but it also globally accelerates renewable integration into the grid, reducing reliance on polluting power plants. During winter peak loads, in 80% of cases demand response is preferred over thermal plants, cutting CO2 emissions up to 70%. The solution's lifetime impact is highly positive, fostering sustainable energy adoption."
For more information, click here !
Press contact : Emma CORSON – PR Voltalis – +33(0)7 60 89 81 89 – emma.corson@voltalis.com